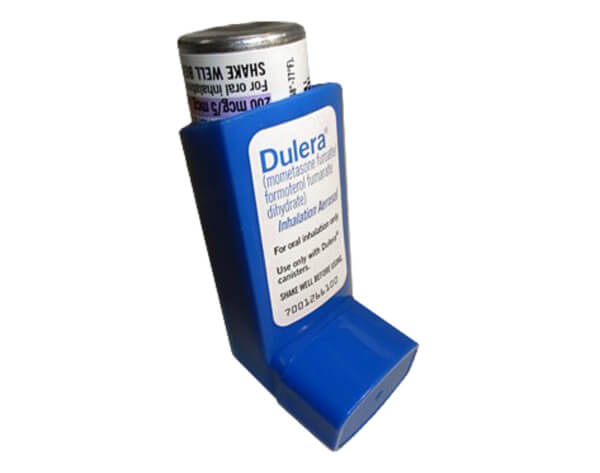 Dulera®
Generic Name: Mometasone and Formoterol
Links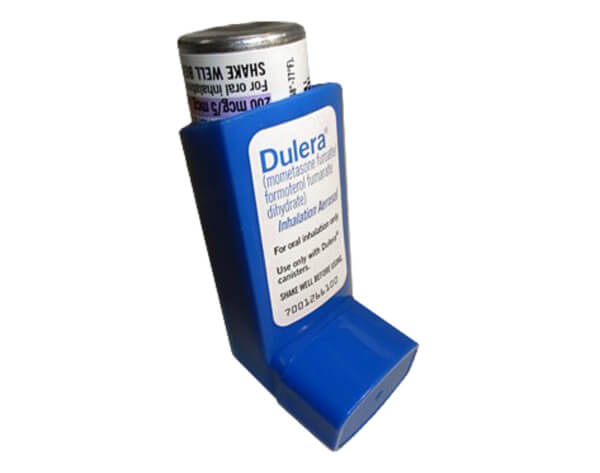 Instructions for use
Wash and dry your hands well.
Remove the mouthpiece cover and check for loose parts inside the mouthpiece.
Shake the inhaler several times for about 5 seconds.
Prime the inhaler into the air (away from face) if the unit is new or you have not used it for 5 days.
Sit up straight or stand up.
Hold the inhaler so the mouthpiece is at the bottom and the canister points upward. Fully exhale from your mouth.
Place the mouthpiece between your lips. Make sure that your tongue is flat under the mouthpiece and does not block the opening.
Seal your lips around the mouthpiece.
Push the canister all the way down as you begin to slowly take a deep breath over 5 seconds through your mouth.
Hold your breath for 10 seconds. If you cannot hold your breath for 10 seconds, then hold your breath for as long as possible.
Wait 30 seconds if you need another dose of medicine.
Repeat steps 5 to10 until you reach the dose prescribed by your doctor.
Rinse your mouth after the last puff of medicine and spit the water out — do not swallow.
Replace the mouthpiece cover after each use. Store in a cool dry place.
Key product details
Medication Class & Use
Combination inhaler (maintenance inhaler, long-acting beta-2 agonist (LABA) and corticosteroid). This inhaler combines two medications that work over time to make breathing easier. Together the medications relax the muscles in the airway and decrease inflammation, swelling and mucus production.
Use this inhaler every day to prevent symptoms, even when feeling well.
Do not use for fast relief.
Do not use in combination with other LABA medicines.
Dosing
Usual Asthma Dosing: Varies based on prior asthma therapy; range 100mcg/5mcg: 2 puffs twice daily – 200 mcg/5 mcg: 2 puffs twice daily.
Available Strengths: 100 mcg/5 mcg and 200 mcg/5 mcg.
Each inhaler contains 120 inhalations (124 before priming) or 60 inhalations (institutional model)
Priming
Priming: 4 sprays before 1st use and if not used in 5 days.
Refill
Inhaler is empty when dose counter reads 0.
Cleaning
Clean every 7 days using a dry cloth, tissue or cotton swab inside and outside of the mouthpiece, especially inside the sprayer. Do not wash or put any part of the inhaler in water. Do not remove canister from actuator.
Storage
After priming, store the 60 inhalation device with mouthpiece down or in the horizontal position. The 120 inhalation device can be stored in any position.
Safety Information
Do not use in combination with other LABA containing medicines for any reason.
People with asthma who take long-acting beta2-adrenergic agonist (LABA) medicines such as formoterol (one of the medicines in DULERA), have an increased risk of death from asthma problems. It is not known whether mometasone furoate, the other medicine in DULERA, reduces the risk of death from asthma problems seen with formoterol.
References
Galvin WF, Dunn PJ, Kallstrom TJ. A Patient's Guide to Aerosol Drug Delivery. American Association for Respiratory Care; 2010.
Product Information: DULERA(R) inhalation aerosol, mometasone furoate formoterol fumarate dihydrate inhalation aerosol. Merck Sharp & Dohme Corp., a subsidiary of Merck & Co., Inc., Whitehouse Station, NJ, 2016.
This site does not endorse or recommend any individual medication and does not accept funding or advertising from drug manufacturers. Our intent is to share information about medication use so that you get the most benefit from your medicine.
The information provided is educational purposes only. It should not be used as a substitute for professional medical advice, diagnosis or treatment.
Copyright @2023 Fairview Physician Associates. All rights reserved.