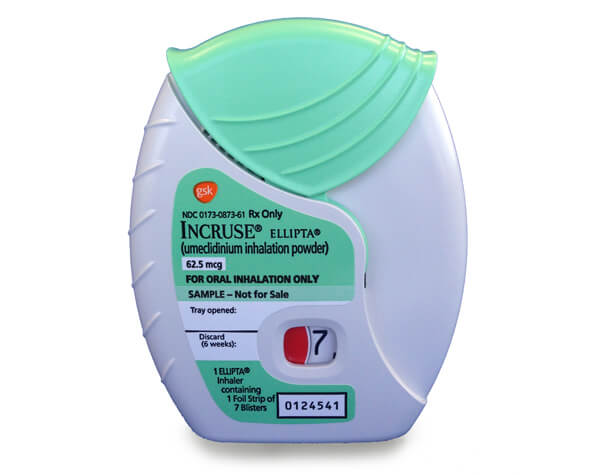 Incruse Ellipta®
Generic Name: Umeclidinium
Links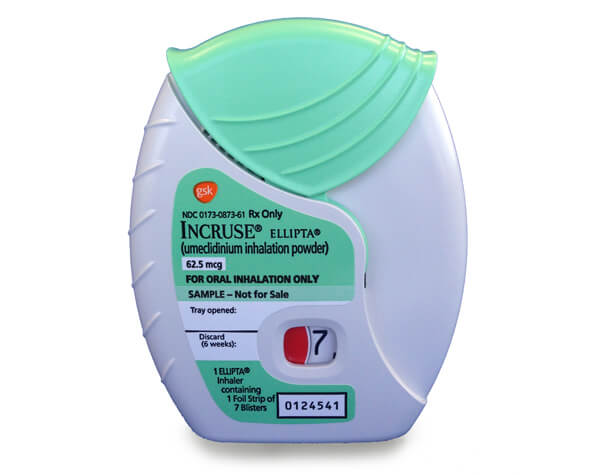 Instructions for use
Cleaning
Keep inhaler dry at all times. Use a dry cloth to gently wipe mouthpiece if needed.
Wash and dry your hands well.
Do not shake the inhaler.
Slide down the cover until you hear a click.
Breathe out through your mouth away from the inhaler.
Close your lips tightly around the mouthpiece.
Breathe in deeply through your mouth. Be careful not to block the air vent on the inhaler with your fingers.
Remove the mouthpiece and hold your breath for at least 3 to 4 seconds or as long as comfortable.
Breathe out through your mouth slowly, away from the inhaler.
You may not taste or feel the medicine, even when you are using the inhaler correctly. Do not take another dose.
Close the inhaler.
Store inhaler in a cool, dry place.
Important note: Open the inhaler only if you are ready to take your dose. The counter counts down by 1 each time you open the cover. You will lose the dose if you close the cover without taking the medicine.
Key product details
Medication Class & Use
Anticholinergic Bronchodilator (maintenance inhaler): Works to relax the muscles that tighten around the airway and makes breathing easier.
Use this inhaler every day to prevent symptoms, even when feeling well.
Do not use for fast relief.
Dosing
Maintenance treatment of COPD: 1 inhalation once daily.
Available Strengths: 62.5mcg
Inhaler contains 30 doses (institutional model has 7 doses.)
Refill
Inhaler is empty when dose counter reads 0 (the counter is red for doses 0-9 to remind getting a refill.)
Discard inhaler 6 weeks after opening foil pouch (or when dose counter reads 0, whichever comes first.)
Safety
Do not use in patients with acutely deteriorating COPD or to treat acute COPD.
Do not use if patient has a severe allergy to milk proteins.
References
Galvin WF, Dunn PJ, Kallstrom TJ. A Patient's Guide to Aerosol Drug Delivery. American Association for Respiratory Care; 2010.
Product Information: INCRUSE ELLIPTA inhalation powder, umeclidinium inhalation powder. GlaxoSmithKline, Research Triangle Park, NC, 27709.  2016.
This site does not endorse or recommend any individual medication and does not accept funding or advertising from drug manufacturers. Our intent is to share information about medication use so that you get the most benefit from your medicine.
The information provided is educational purposes only. It should not be used as a substitute for professional medical advice, diagnosis or treatment.
Copyright @2023 Fairview Physician Associates. All rights reserved.