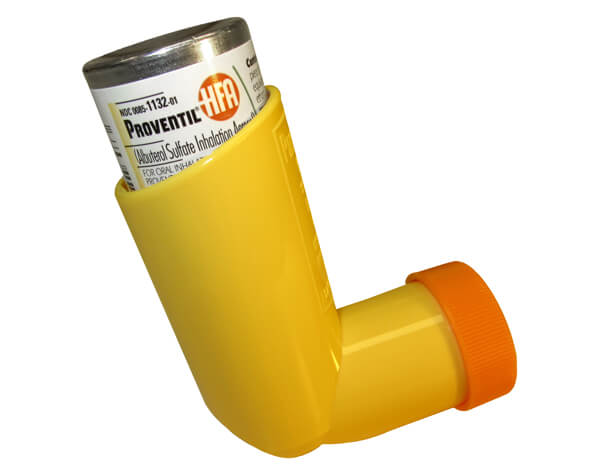 Proventil® HFA
Generic Name: Albuterol Sulfate
Links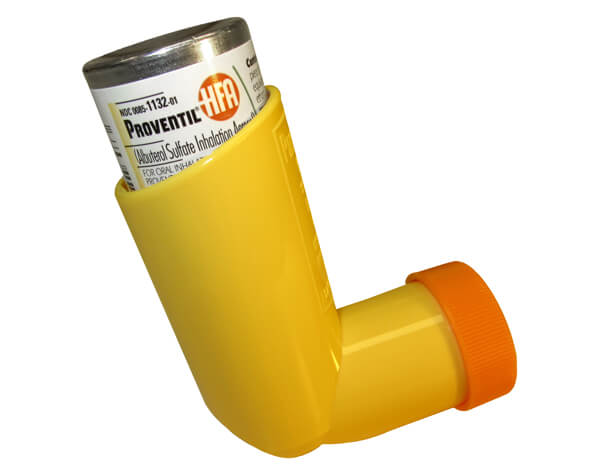 Instructions for use
Wash and dry your hands well.
Remove the mouthpiece cover and check for loose parts inside the mouthpiece.
Prime the inhaler into the air away from your face if the unit is new or you have not used for it for 2 weeks.
Sit up straight or stand up.
Shake inhaler well before each spray.
Hold the inhaler so the mouthpiece is at the bottom and the canister points upward. Fully exhale from your mouth.
Place the mouthpiece between your lips. Make sure that your tongue is flat under the mouthpiece and does not block the opening.
Seal your lips around the mouthpiece.
Push the canister all the way down as you begin to slowly take in a deep breath over 5 seconds through your mouth.
Hold your breath for 10 seconds. If you cannot hold your breath for 10 seconds, then hold your breath for as long as possible.
If you need another dose, wait one minute and repeat steps 4 to11.
Replace the mouthpiece cover after each use. Store in a cool dry place with the mouthpiece pointed down.
Key product details
Medication Class & Use
Short-acting bronchodilator (also called rescue inhaler, fast acting inhaler, short-acting beta-2 agonist or SABA): Starts working quickly to relax the muscles that tighten around the airways and make breathing easier. The medicine usually lasts 3-4 hours.
Use for fast relief.
Dosing
Usual dosing: 2 puffs every 4-6 hours as needed (max dose 12 puffs in 24 hours).
Each inhaler contains 200 inhalations.
Priming
Priming: 4 sprays before first use and if not used within 2 weeks
Refill
No dose counter
Click on printable dose tracker (right)
Cleaning
Remove canister and wash mouthpiece with warm water weekly. Let air dry. Inhaler may stop spraying if not properly cleaned.
Cleaning
Remove canister and wash mouthpiece with warm water weekly. Let air dry. Inhaler may stop spraying if not properly cleaned.
References
Galvin WF, Dunn PJ, Kallstrom TJ. A Patient's Guide to Aerosol Drug Delivery. American Association for Respiratory Care; 2010.
Product Information: PROVENTIL(R) HFA oral inhalation aerosol, albuterol sulfate oral inhalation aerosol. Merck, Sharp and Dohme Corp, 2015.
This site does not endorse or recommend any individual medication and does not accept funding or advertising from drug manufacturers. Our intent is to share information about medication use so that you get the most benefit from your medicine.
The information provided is educational purposes only. It should not be used as a substitute for professional medical advice, diagnosis or treatment.
Copyright @2023 Fairview Physician Associates. All rights reserved.