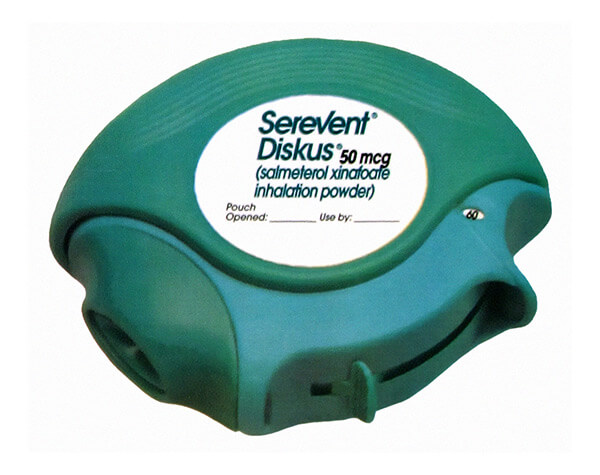 Serevent® Diskus®
Generic Name: Salmeterol xinafoate
Links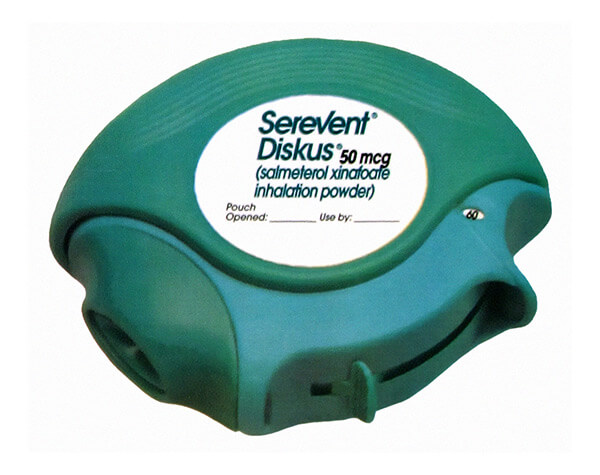 Instructions for use
Wash and dry your hands well.
Open the device.
Hold the device in a level, flat position. Do not shake this inhaler.
Slide the lever from left to right until it clicks.
Exhale out through your mouth away from inhaler.
Place the mouthpiece into your mouth and close your lips tightly around it.
Keep the device level while inhaling the dose with a quick, deep breath.
Remove the mouthpiece and hold your breath for 10 seconds or as long as comfortable.
Exhale through your mouth slowly and away from the inhaler.
Close the inhaler.
Rinse your mouth or brush your teeth after taking the dose and spit the water out — do not swallow.
Store inhaler in a cool dry place.
Key product details
Medication Class & Use
Long-acting bronchodilator (maintenance inhaler, or LABA): Works to relax the muscles that tighten around the airway and makes breathing easier. This medicine takes longer to start working than the short-acting bronchodilator, but works for a longer time.
Use this inhaler every day to prevent symptoms, even when feeling well.
Do not use for fast relief.
Do not use in combination with other LABA medicines.
Dosing
COPD Dosing: 1 inhalation twice daily.
Asthma dosing click here. Must be used in combination with an inhaled steriod.
Maximum dosing is 1 inhalation twice daily.
Do NOT use in combination with other LABAs for any reason
Available strengths: 50 mcg.
Inhaler contains 60 doses (institutional pack = 28 doses).
Refill
Inhaler is empty when dose counter reads 0 (dose counter turns red when 5 doses are remaining as a reminder to refill).
Discard inhaler 6 weeks after removing from foil pouch (or when dose counter reads 0).
Cleaning
Keep inhaler dry. Wipe outside as needed with dry cloth.
Safety Information
Do not use in combination with other LABA containing medicines for any reason.
ASTHMA RELATED DEATH: Long-acting beta2-adrenergic agonists, such as salmeterol, the active ingredient in SEREVENT DISKUS, increase the risk of asthma-related death. Use SEREVENT DISKUS only as additional therapy for patients with asthma who are currently taking but are inadequately controlled on a long-term asthma control medication, such as an inhaled corticosteroid. Do not use in combination with other LABA (formoterol, aformoterol, indacterol or vilanterol) for any reason.
References
Galvin WF, Dunn PJ, Kallstrom TJ. A Patient's Guide to Aerosol Drug Delivery. American Association for Respiratory Care; 2010.
Product Information: SEREVENT(R) DISKUS(R) inhalation powder, salmeterol xinafoate inhalation powder. GlaxoSmithKline, Research Triangle Park, NC, 2015.
This site does not endorse or recommend any individual medication and does not accept funding or advertising from drug manufacturers. Our intent is to share information about medication use so that you get the most benefit from your medicine.
The information provided is educational purposes only. It should not be used as a substitute for professional medical advice, diagnosis or treatment.
Copyright @2023 Fairview Physician Associates. All rights reserved.