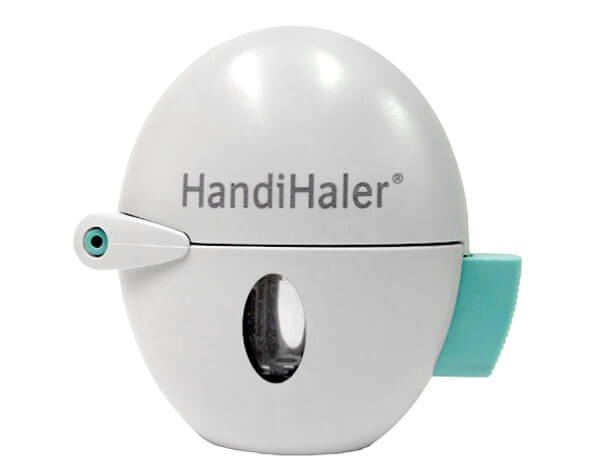 Spiriva® Handihaler®
Generic Name: Tiotropium bromide
Links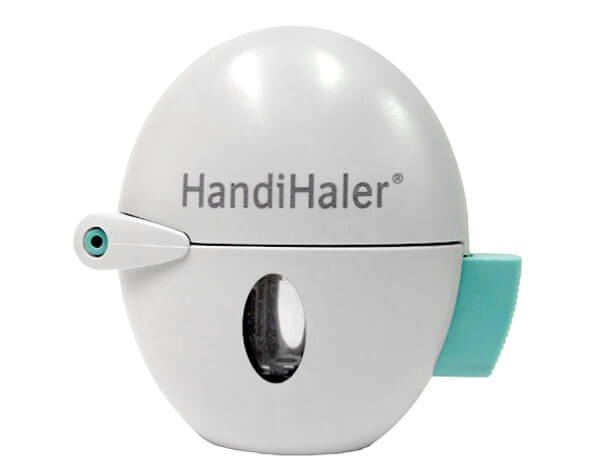 Instructions for use
Wash and dry your hands well.
Peel back the aluminum foil and remove a capsule immediately before using.
Open the dust cap by pulling it upward.
Open the white mouthpiece under the dust cap.
Place the capsule in the center chamber.
Close the mouthpiece firmly until you hear a click. Leave the dust cap open.
Hold the inhaler with the mouthpiece up.
Press the green piercing button all the way down once and release. This makes holes in the capsule and allows the medication to release when you breathe in.
Sit up straight or stand up.
Exhale out through your mouth away from the inhaler.
Hold the inhaler level to the floor and place the mouthpiece in your mouth; seal your lips around it. Do not to block the air vents.
Breathe in through your mouth until your lungs are full. You should hear the capsule vibrate.
Remove the mouthpiece from your mouth and hold your breath for 10 seconds or as long as comfortable.
Exhale slowly away from the inhaler.
Repeat steps 9 to 14. You must inhale twice from same capsule to receive full dose of medication.
Open the mouthpiece and gently tap out the capsule and powder into trash. Do not store capsules in the inhaler.
Close the mouthpiece and dust cap. Store in a cool dry place.
Key product details
Medication Class & Use
Long acting anticholinergic bronchodilator (maintenance inhaler): Works to relax the muscles that tighten around the airway and makes breathing easier.
Use this inhaler every day to prevent symptoms, even if you are feeling well.
Do not use for fast relief.
Dosing
Usual COPD Dosing: 2 inhalations (one capsule) once daily.
Available in package containing 5 capsules, 30 capsules and 90 capsules.
DO NOT SWALLOW CAPSULES.
Cleaning
Check chamber for powder buildup and tap it out before use.
Clean as needed- rinse in warm water and let air dry for 24 hours.
Safety Information
Avoid getting powder in your eyes; the medicine can cause eye problems and worsen narrow angle glaucoma.
Avoid use with other anticholenergic medications due to additive effect.
Monitor for anticholinergic effects in patients with reduced renal function.
Occasional irritation in the back of the throat may occur if you inhale capsule pieces. This is not harmful.
References
Galvin WF, Dunn PJ, Kallstrom TJ. A Patient's Guide to Aerosol Drug Delivery. American Association for Respiratory Care; 2010.
Product Information: SPIRIVA(R) HandiHaler(R) oral inhalation capsules, tiotropium bromide oral inhalation capsules. Boehringer Ingelheim Pharmaceuticals, Inc, Ridgefield, CT, 2016.
This site does not endorse or recommend any individual medication and does not accept funding or advertising from drug manufacturers. Our intent is to share information about medication use so that you get the most benefit from your medicine.
The information provided is educational purposes only. It should not be used as a substitute for professional medical advice, diagnosis or treatment.
Copyright @2023 Fairview Physician Associates. All rights reserved.