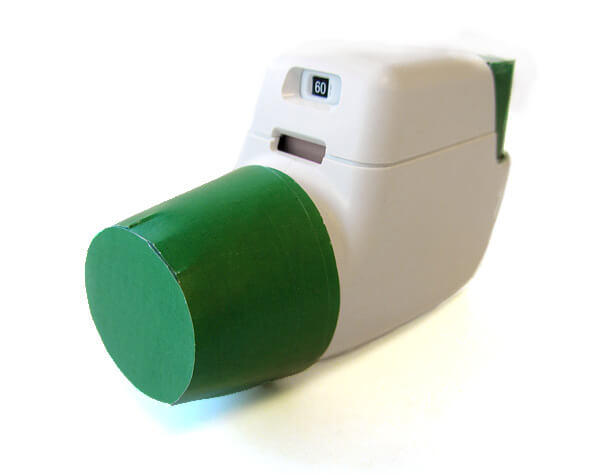 Tudorza™ Pressair™
Generic Name: Aclidinium bromide
Links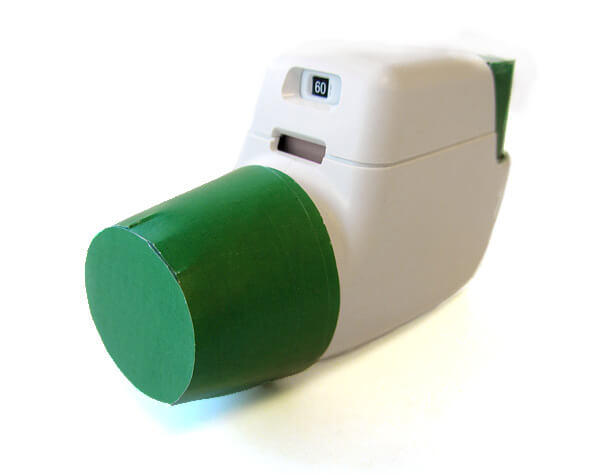 Instructions for use
Wash and dry your hands well.
Remove the mouthpiece cover by squeezing lightly on the arrows printed on the sides of the cap.
Check for loose parts inside the mouthpiece.
Hold the inhaler with the green button facing up. Do not tilt inhaler.
Press the green button all the way down, then release it.
Check display window – it should now be green. If it is red, push the button again.
Sit or stand up straight.
Breathe out through your mouth away from inhaler.
Place the mouthpiece in your mouth and seal your lips around it.
Breathe in quickly and deeply. You should hear a "click." Continue to breathe in to make sure you inhale all of the medicine. Do not hold green button down while breathing in your dose.
Remove the mouthpiece from your mouth and hold your breath for 10 seconds or as long as you can.
Breathe out slowly away from the inhaler.
Check display window to see if it is red. If the window is still green, you did not get your medicine. Repeat steps 7 to12 until the window turns red.
When the window is red, put the mouthpiece cover back on. Store in a cool dry place.
Key product details
Medication Class & Use
Long acting anticholinergic bronchodilator (maintenance inhaler): Works to relax the muscles that tighten around the airway and makes breathing easier.
Use this inhaler every day to prevent symptoms, even if you are feeling well.
Do not use for fast relief.
Dosing
Usual COPD dosing: 1 inhalation twice daily (try to take doses about 12 hours apart).
Inhaler is breath activated and contains 60 doses (institutional model = 30 doses.)
Refill
Dose counter counts down by 10 and the band turns red when there are ten doses remaining.
Discard inhaler 45 days after opening foil pouch or when dose counter reads 0. Device will lock when no doses remain.
Cleaning
This inhaler does not need to be cleaned. You can wipe outside with dry cloth if needed. KEEP INHALER DRY.
Other Information
Do store inhaler on a vibrating surface.
You may taste the powder or you may not. Tasting the powder is not a good indicator of whether or not you took the dose correctly.
Avoid getting the powder in your eyes. The powder can cause eye problems and worsen narrow angle glaucoma.
Safety Information
Contraindicated in patients with severe milk protein hypersensitivity or hypersensitivity to any of the ingredients.
Can cause immediate hypersensitivity reactions (including anaphylaxis, angioedema, bronchospasm and more.)
References
Galvin WF, Dunn PJ, Kallstrom TJ. A Patient's Guide to Aerosol Drug Delivery. American Association for Respiratory Care; 2010.
Product Information: Tudorza Pressair, aclidinium bromide inhalation powder.  Forest Pharmaceuticals, St. Louis, MO, 2016.
This site does not endorse or recommend any individual medication and does not accept funding or advertising from drug manufacturers. Our intent is to share information about medication use so that you get the most benefit from your medicine.
The information provided is educational purposes only. It should not be used as a substitute for professional medical advice, diagnosis or treatment.
Copyright @2023 Fairview Physician Associates. All rights reserved.